This Tuesday was National Chocolate Chip Cookie Day. Yes, there's a holiday for everything, but we're particularly inclined to celebrate this one because 1) the Morning Brew mug is the ideal vessel for cookie-dipping milk and 2) we like cookies.
Because we don't hold the answers to everything, we asked readers for their favorite cookie recipes. Two chocolate chip variations in particular were recommended 10 million times: 1) Doubletree's not-so-secret recipe, and 2) Chris Morocco from Bon Appetit's favorite. 
Keep reading for many more cookie recipes (not all chocolate chip). And if you make any, tag us on Twitter or Instagram. At least one batch has to make it past the dough stage, right?
Chocolate chip cookies
Chocolate chip pudding (All Recipes)
Big fat chewy chocolate chip (All Recipes)
Brown butter + toffee chocolate chip (Bon Appetit) 
Perfect chocolate chip (Williams Sonoma) 
Brown butter chocolate chip (Tasty)
Giant crinkled chocolate chip (NYT)
Cream cheese chocolate chip (Yummly)
Chocolate chip ultimate guide (Chef Steps)
Massive chocolate chip (8Days)
Better than Doubletree chocolate chip (Crazy for Crust)
Flourless chocolate chip (Chocolate Covered Kate)
Nestle's recipe (Reddit's favorite), but with two alterations:
Instead of 3/4 cup brown sugar and 3/4 cup granulated sugar, use 1 cup of brown and 1/2 cup of granulated for a more buttery taste.
Instead of 1 tsp of baking soda, use 1 tsp of baking powder to make it super fluffy.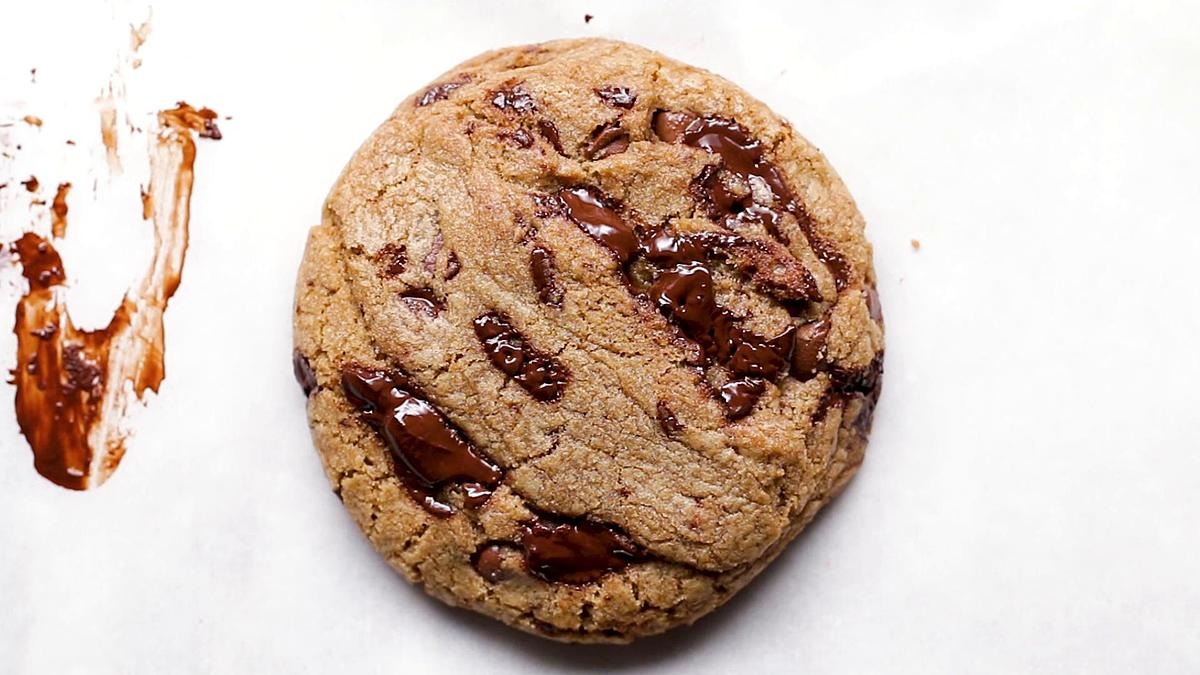 Tasty
Chocolate chip cookies
Ingredients:
1 stick unsalted butter, room temp (salted's fine too, just use less salt later)
1/4 cup granulated white sugar
1 cup packed brown sugar
1 egg, room temp
1/2 tsp vanilla extract
1 1/2 cups BREAD flour (this is the secret weapon to this recipe)
1/2 tsp baking soda
1/2 tsp salt
1 cup semisweet or dark chocolate chips
Instructions
Cream together the butter and the sugars.You can use your hands or an electric/hand mixer.
Add the egg and vanilla, but only mix until just incorporated 
In a separate bowl mix together the bread flour, baking soda, and salt
Add the flour mixture to the wet mixture in parts, mixing until it's all in there. It will seem too dry, but it's not.
Add the chips
This part is almost as important as using bread flour: Roll the cookies into balls, put them in a bowl, and refrigerate for 2-6 hours. 
Preheat your oven to 350, bake for 9 minutes, and you're done!
Fluffy chocolate chip cookies
Ingredients:
1 cup butter, softened
1/2 cup powdered sugar
1 tsp vanilla
2 cups flour
2/3 cup finely chopped nuts (optional)
chocolate chips
Directions:
Beat butter and powdered sugar until creamy. Add vanilla. Gradually add flour, nuts, and chips. Roll into balls. Bake at 350 for 10-12 minutes. Yields 2 dozen cookies.
Other cookies:
Black tea cardamom (Delish)
Andes mint (Well Plated)
Soft chewy oatmeal raisin (Sally's Baking Addiction)
Healthy banana (Naturally Natalie Eng)
Oreo cheesecake (TikTok) *can use regular oreos*
Cowboy cookies (Martha Stewart)
Grandma Weze's energy cookies (SquareSpace) 
Salted chocolate chunk shortbread (NYT)
Oatmeal lace (AddaPinch)
Peanut butter cup (All Recipes) *make sure to use mini-muffin tins*
Chocolate diablo (Chetelaine)
Pumpkin snickerdoodles (Cooking Classy)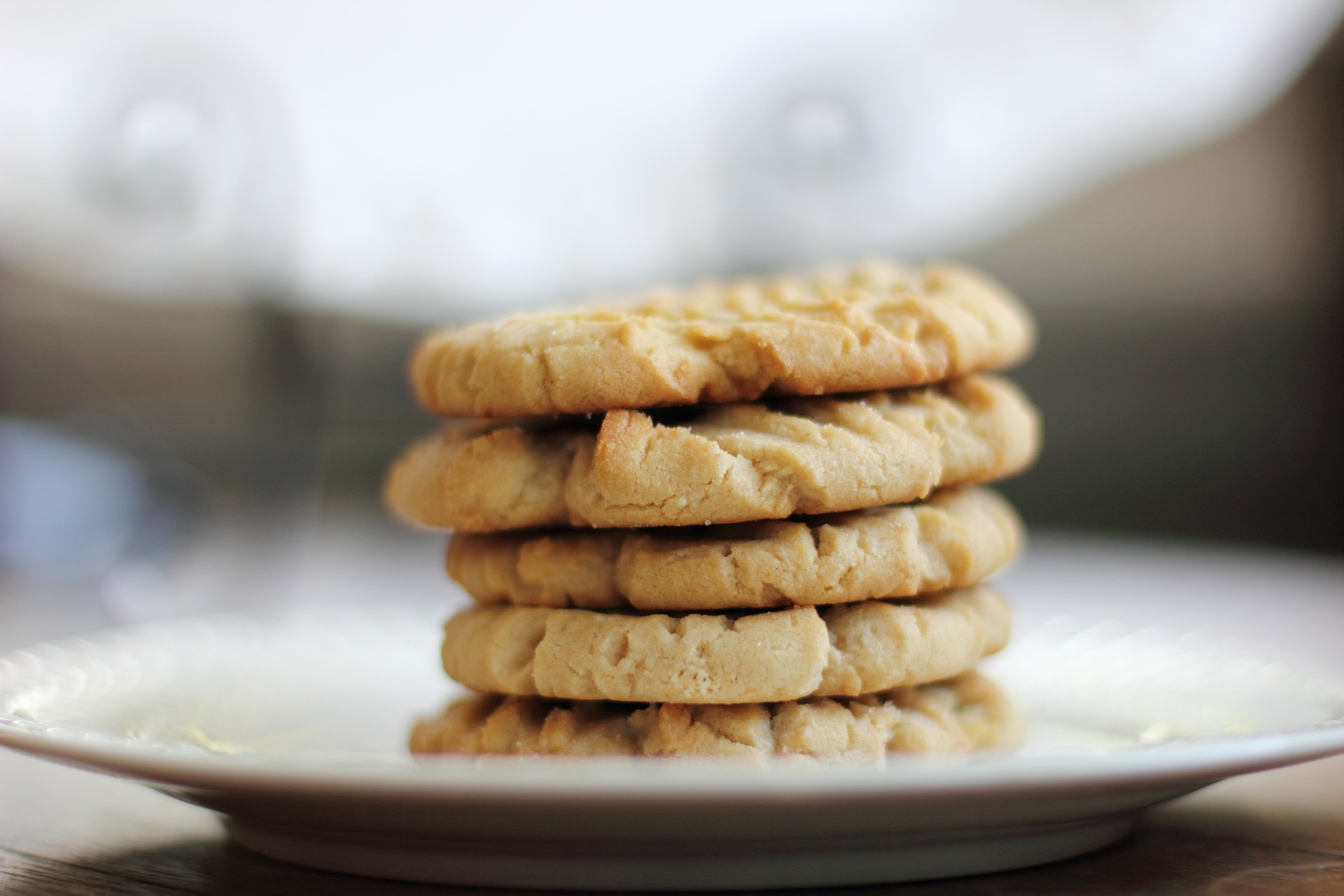 Pixabay
Cottontails
1 cup softened butter
1/2 cup powdered sugar
1 tsp vanilla
2 1/4 cup flour
1/4 tsp salt
3/4 nuts (Texas pecans)
Heat oven to 400. Mix sugar butter and vanilla until combined. Add flour, salt, and nuts. Shape dough into 1 inch balls and bake on a cookie sheet 1 inch apart for 10 min. While warm, roll in powdered sugar. 
Ginger snaps
Heat oven to 350 and line baking sheets with parchment paper
Combine in mixer bowl and mix together:
1 cup canola Oil
2 cups sugar
½ cup molasses
Add 2 Eggs. Mix until creamy and smooth. In a separate bowl combine:
4 cups flour
4 tsp baking soda
1 tsp ground ginger
1 tsp ground cloves
2 tsp cinnamon
½ tsp salt
Gradually add dry mixture to wet mixture, beating after each addition. Refrigerate for 2 hours. Take 1 tbsp of dough, roll in granulated sugar, and place on a baking sheet. Bake for 8-10 minutes.
Real cool cookies (no bake cookies)
Combine:
2 cups sugar
1/4 cups cocoa
1/2 cups milk
1/4 lb butter
Bring to a boil and cook slightly. Add 1/2 cup peanut butter and 1/2 tsp vanilla. 
Drop by teaspoon on wax paper. 
Soft-baked white chocolate cranberry cookies
Ingredients
3/4 cup (1.5 sticks or 170g) unsalted butter, softened to room temperature
3/4 cup (150g) packed dark brown sugar
1/4 cup (50g) granulated sugar
1 large egg, at room temperature
2 tsps pure vanilla extract
2 cups (250g) all-purpose flour
2 tsps cornstarch (cornflour)
1 tsp baking soda
1/2 tsp salt
3/4 cup (135g) white chocolate chips
3/4 cup (105g) dried cranberries
Instructions
In a large bowl using a hand-held mixer or stand mixer with paddle attachment, beat the butter for 1 minute on medium speed until completely smooth and creamy. Add the brown sugar and granulated sugar and mix on medium high speed until fluffy and light in color. Beat in egg and vanilla on high speed. Scrape down the sides and bottom of the bowl as needed.
In a separate bowl, whisk the flour, cornstarch, baking soda, and salt until combined. On low speed, slowly mix into the wet ingredients until combined. The dough will be quite thick. Add the white chocolate chips and dried cranberries, and mix on low for about 5-10 seconds until evenly distributed. Cover dough tightly with aluminum foil or plastic wrap, and chill for at least 2 hours to 2 days.
Remove cookie dough from the refrigerator and allow it to sit at room temperature for 10 minutes. If the cookie dough chilled longer than 2 hours, let it sit at room temperature for about 30 minutes. This makes the cookie dough easier to scoop and roll.
Preheat the oven to 350. Line two large baking sheets with parchment paper or silicone baking mats. Set aside.
Once chilled, the dough will be slightly crumbly, but will come together if you work the dough with your hands as you roll into individual balls. Scoop and roll balls of dough, about 1 tablespoon of dough each, into balls. Place 10-12 on each baking sheet. Bake in batches for 8-10 minutes, until barely golden brown around the edges. They will look extremely soft when you remove them from the oven. Allow to cool for 5 minutes on the cookie sheet. If the cookies are too puffy, try gently pressing down on them with the back of a spoon. They will slightly deflate as you let them cool. Transfer to a cooling rack to cool completely.
Giphy
Healthy cookies (only if necessary)
Ingredients
1 can chickpeas, rinsed and drained
2 tsp vanilla
3/4 nut butter (creamy honey roasted is delicious)
1/3 cup maple syrup (agave or honey works too)
1 tsp baking powder
1/2 cup chocolate chips
(Optional) stevia/trulia/sweetener, whatever amount looks good
(Optional) cinnamon
Steps
Preheat oven to 350 degrees
Add all ingredients except chocolate chips into a blender or food processor and give it a whirl (you may need to stop the blender, and attack the batter with a spatula a few times)
Mix in the chocolate chips using a spatula or spoon
Form the mixture into balls, place on a cookie sheet, and flatten with a fork (the batter is super sticky, so you may need to wet your hands a bit)
Bake 14-15 mins
Cool, devour, and store remaining cookies in the fridge
PB cookies
1 cup peanut butter
1 cup sugar
1 egg
Combine all ingredients. Put small drops on a greased cookie sheet. Use a fork to make a cross in the cookie. Bake for 10 minutes in a 325 degree oven.
Oatmeal chocolate chip cookies
1 cup oatmeal
2/3 cups flour
1/2 tsp salt
1/2 tsp baking soda
1/2 cups chocolate chips
1/2 cup shortening
1 egg
1 tsp vanilla
1/2 cup sugar
1/4 cup brown sugar
Preheat the oven to 350. Mix dry ingredients and set aside. Combine shortening, sugars, vanilla, and egg. Add chocolate chips and mix with dry ingredients. Put spoonfuls on a greased cookie sheet, and bake for 9 minutes.